KIMS (Karachi Islamic & Modern School) A PROJECT OF ITBW
ADMISSIONS OPEN VISIT NOW SETS ARE LIMITED GET SCHOLERSHIP TODAY
ADDRESS : HOUSE NO. 15, SEC-15 MAIN ROAD NEAR BANGLABAZAR ORANGI TOWN KARACHI.
E.mail : info@itbw.com.pk | kims&school@gmail.com | itbw.collegeofit@gmail.com
Contact : 021-36690208 | 0345-2562803
KIMS & Schooling System (KIDS INTERNATIONAL MONTESSORI AND SCHOOLING SYSTEM) is one of the most Best School in Karachi The School Provide Best International and Islamic Education System this is also Project ITBW College of IT.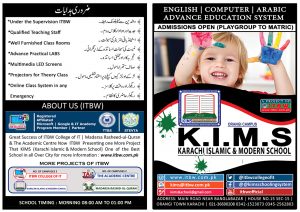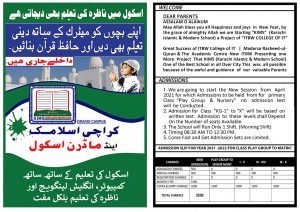 ACTIVITIES